Which Canadian cities attract the most immigrants?
The question that many immigration enthusiasts in Canada have been thinking about is which Canadian cities attract the most immigrants? Interested parties are also looking for a suitable and completely transparent answer. Canadian cities are always competing to attract immigrants. In 2019, Charlotte Town, Regina and Toronto welcomed the largest number of immigrants per capita. Ottawa was the last city to join the exclusive 1% club.
Cities across Canada are competing hotly to attract more immigrants. Due to an aging population and low birth rates, cities need more immigrants to sustain their economies. Nationally, Canada welcomed more than 341,000 immigrants in 2019, which accounted for about 0.9 percent of the country's population. . Canada is accepting more immigrants through Express Entry, the Provincial Nominee Program (PNP) as well as newer innovations such as the Atlantic Migration Pilot Program (AIP).
Toronto Canada
Ottawa Canada
Toronto welcomed 118,000 immigrants
Toronto has welcomed the largest number of immigrants, with a much wider margin than other Canadian cities. The city attracted nearly 118,000 immigrants last year, accounting for 35% of Canada's new arrivals. Vancouver, Montreal, Calgary and Edmonton are in the top five after Toronto.
Number of newcomers to population in 2019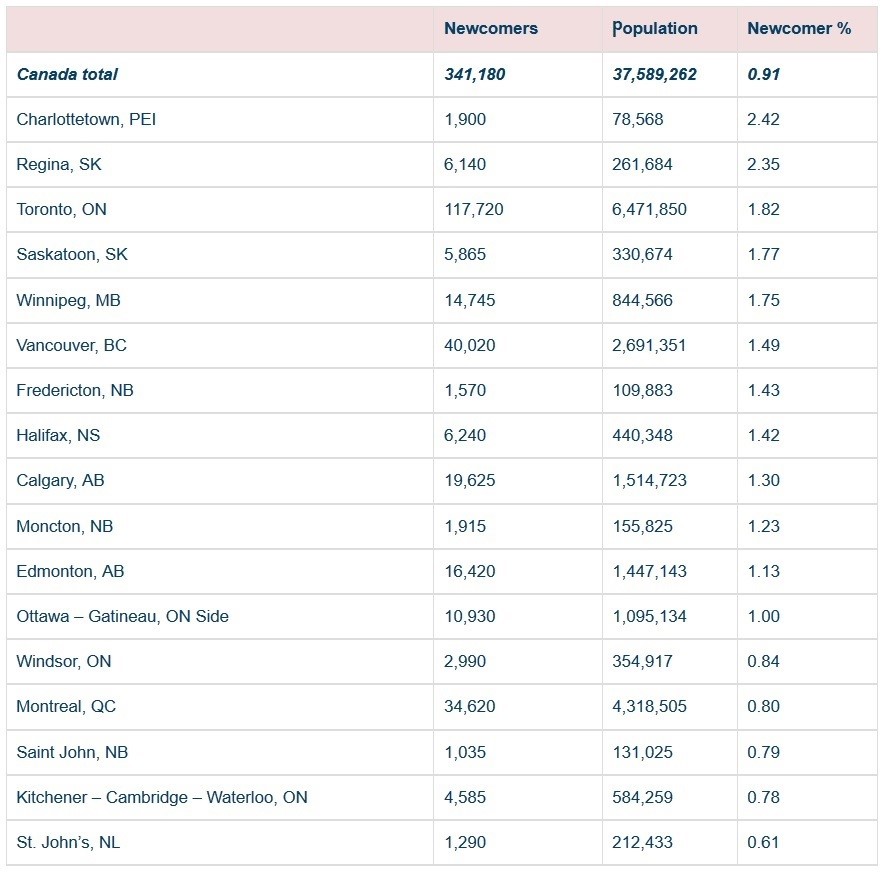 Charlotte Town ranks first in terms of per capita
Want to know which cities in Canada attract the most immigrants?Want to know which province ranks first per capita? Welcome to Trajons Immigration Services. We will provide you with the latest and most up-to-date news.
Based on per capita, the story is very different. Using this metric, Charlotte Town is the leader in newcomers, welcoming 2.4% of its population. The reason for this is the success of Prince Edward Island in attracting large numbers of business class immigrants through PNP and AIP programs.
Regina is in second place, with newcomers accounting for nearly 2.4 percent of the population.
Toronto's massive uptake ranked it third nationally, as it welcomed newcomers to 1.8 percent of its population.
Saskatoon came in fourth with almost 1.8 percent of its population, followed by Winnipeg with almost 1.8 percent. Saskatchewan and Manitoba have both been able to welcome large numbers of business class immigrants over the past 20 years through the PNP program.
Growing in Atlantic Canada
In recent years, several cities in Atlantic Canada have been able to welcome more immigrants to help their economic development. Frederickon, Halifax and Moncton each welcomed newcomers at least 1.2 percent of their population last year. Both PNP and AIP programs have been effective in boosting migration to the region.
Ottawa-Gatineau joins the exclusive club
If you want to know Which Canadian cities attract the most immigrants? It is interesting to know that the National Capital Territory of Canada is the latest addition to the exclusive Canadian Cities Club. In 2019, Ottawa-Gatineau welcomed newcomers to one percent of its population.
Ottawa-Gatinea immigration levels have increased significantly in recent years, apparently due to a number of factors. In addition to being more welcoming of refugees, it also accepts immigrants of a higher economic class. While its economic class information is not yet available at the time of writing, Ottawa-Gatineau may admit more international students through the Ontario Express Entry and PNP programs for permanent residency. In addition, given Quebec's recent decision to reduce immigration by 20 percent, it is possible that some immigrants interested in settling in Quebec will choose to live in the neighboring region of Ottawa-Gatineau.
Due to Quebec's decision, immigration to Montreal fell by about 10,000 last year, reducing the city's per capita newcomers to less than one percent of the population (0.8 percent).
Why is a percentage per capita important?
Welcoming newcomers to one percent of Canada's registered population, both nationally, provincially and urbanly, is an important milestone in Canada.
Welcoming this level of immigration is a significant tool for promoting economic growth.
The two ways to grow economically are to welcome more people and make more use of them in the job market. Canada's population has grown by one percent or more over the past two decades, which has contributed almost as much to economic growth.
The growing share of Canadian population growth is through immigration, and immigration is projected to account for 100% of Canada's population growth over the next decade.
This means that immigration will play a greater role in supporting Canada's economic growth.
Welcoming at least one percent of their immigrant population, cities across Canada are finding themselves in healthier economic conditions.
There are over 80 programs to promote immigration across Canada.
Fortunately, Canadian cities have great tools for increasing their immigrant population. There are over 80 economy class programs through Express Entry and additional federal programs such as PNP as well as AIP.
These programs provide an opportunity to reach a one percent turning point for more cities across Canada. Do not miss your exceptional opportunity to obtain Canadian residency by completing the evaluation form below. Trajons's expert and experienced immigration consultants will contact you as soon as possible by reading the evaluation form information.