The largest express entry lottery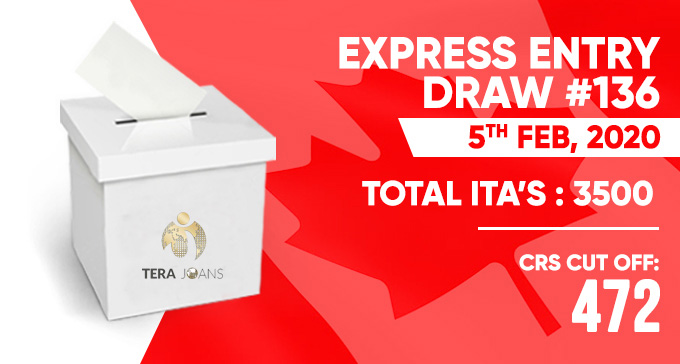 In the biggest Express Entry lottery on February 19, the minimum CRS score dropped to 470 points.
On February 19, the largest Express Entry lottery ever held by the Government of Canada, invitations to apply for permanent residence in Canada were issued to 4,500 Express Entry candidates.
The minimum score of the Comprehensive Scoring System (CRS) in the last round of invitations was 470 points, which is a decrease of two points compared to the previous lottery held on February 5.
The largest express entry system lottery manages the Candidate Archive Collection for the three main categories of Canadian Skilled Workforce Immigration – the Federal Skilled Workforce Class, the Federal Skilled Trades Class, and the Canadian Experience Class.
Eligible candidates enter the Express Entry Archive and are scored based on the CRS system, which is influenced by factors such as age, education, work experience and proficiency in English or French.
A job offer is not required to qualify for the Express Entry Invitation (ITA) invitation, although a candidate with this feature will be awarded an additional CRS score. Through regular draws from the archive for a set number of candidates The highest score was issued for ITA for permanent residence in Canada. These invitations are usually held every two weeks and the majority of them are candidates for the three categories of Express Entry.
The Government of Canada has a six-month processing standard for applications for permanent residence registered through the Express Entry System.
To achieve the annual ITA 85,800 target for new permanent resident admissions, the government must issue more invitations per lot.
Today's lottery is the fourth lottery in 2020, bringing the total number of ITAs issued this year to 14,800.
This means that all candidates with a CRS score above 470, as well as those with a score of 470 who have previously entered their profile in the Express Entry Archive, have received an ITA.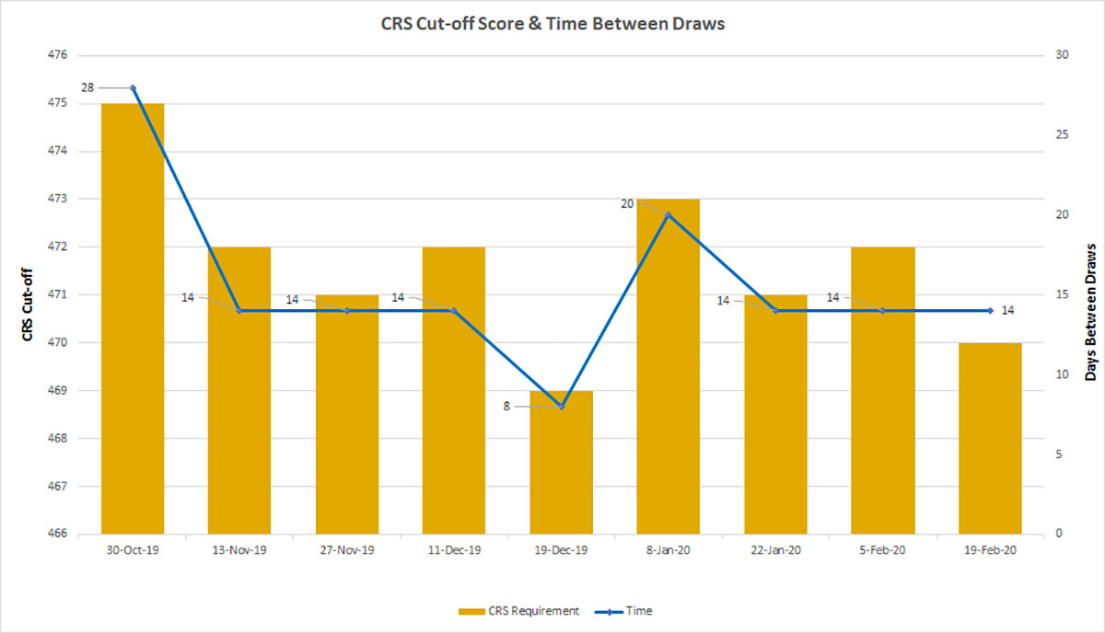 Express Entry candidates with the following CRS minimum acceptance scores have a variety of potential options to increase their total scores, the most valuable of which is the provincial candidate.
The Express Entry system operates in nine Canadian provinces and two territories with "advanced" PNP programs.
The provincial nominee earns an additional 600 CRS points and effectively guarantees an invitation to apply for permanent residence in Canada.
Since the beginning of the year, several Canadian Express Entry Provincial Candidate Programs have issued invitations, including in Alberta, Saskatchewan, Manitoba, Ontario, Prince Edward Island, and British Columbia.
The following are hypothetical examples of candidates for the largest Express Entry lottery who can receive the ITA in today's lottery:
Harish and Deepa are married and 34 and 30 years old, respectively. They each have a master's degree and work as a financial auditor for five and four years, respectively. They each took IELTS and scored 8 in listening skills, 7.5 in speaking, 7 in writing and reading. Harish and Deepa have never worked or studied in Canada. They entered the Express Entry Archive through Deepa as the main applicant. Their 470 CRS score was high enough to earn ITA during the Express Entry Lottery on 19 February.
Zina is 29 years old, has a bachelor's degree and has been working as a teacher for 5 years. She has an advanced degree in French and has a sister who is a Canadian citizen and lives in Toronto. While Xena has never worked or studied in Canada, her CRS score of 471 was high enough to earn an ITA during the February 19 Express Entry Lottery.
For more information, complete the evaluation form below so that Trajons's immigration service experts can contact you as soon as possible so that you can receive the necessary guidance in a completely transparent manner.