Paths from education to permanent residence in Canada
After completing their studies in Canada, many international students decide to immigrateto Canada permanently. Fortunately, there are many ways for international students to move from education to permanent residency in Canada.
Many permanent residency immigration programs in Canadainvite applicants who have some connection to Canada, for example, to a particular province, or have work experience in Canada, or even have a degree in Canada. Brings action.
International Canadian students must consider that they are eligible for the full-time study permit if they decide toimmigrate to Canada permanently. If a student violates the conditions of his / her study permit, he / she could jeopardize his / her future immigration plans.
ContactTrajons experts for more information. We at Trajons will offer the best solutions.
Did you know?
Many pathways from education to permanent residency in Canadarequire skilled work experience, which may be detrimental to international students. However, most international student alumni in Canada are eligible to apply for a postgraduate work permit, which allows them to work in Canada and gain valuable work experience.
Immigration programs for international students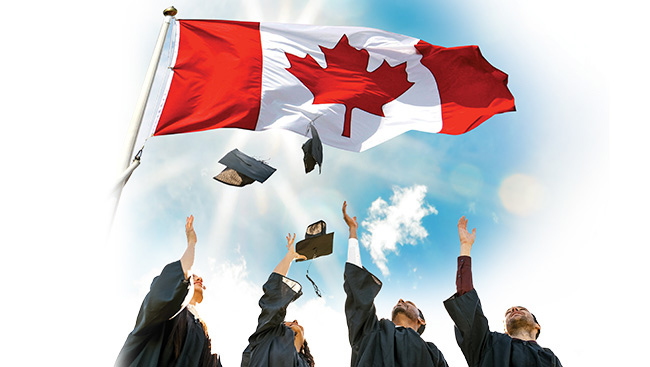 Many paths from education to permanent residency in Canadaare available to international students. While each program operates differently and requires more education in Canada.
The following programs can provide faster routes forinternational graduate students to become permanent residents of Canada:
Experienced Canadian class

Federal Skilled Workforce Program

Provincial candidate programs

Quebec Immigration Options

Work permits after graduation
Please note that many applications are managed through theExpress Entry Canada system, a federal system for managing permanent residency applications.
Experienced Canadian class
Among the programs administered through the Express Entry Immigration System, the Canadian Experienced Class (CEC) program is one of the fastest ways to obtainpermanent residency in Canada. While there is a wide range of eligibility factors for the program, including age, language skills, and level of education, one distinct case is for applicants to prove Have at least12 months of full-time, full-time, and skilled work experience in Canada in the past three years or equivalent in part-time work experience. Once an international student has this level of work experience, the CEC may become a great option for his or her immigration!
One of the requirements of the CEC is that work experience gained during a full-time course is not part of the 12-month work experience required, so international students cannot count on work experience gained during their degree program. . However, when an international student graduates, they are more likely to be allowed to work after graduation, which will allow them to gain the work experience necessary to qualify for the CEC.
Federal Skilled Workforce Program
The Federal Skilled Work Program through the Express Entry Immigration System can be a good option for some international student graduates. Unlike the Canadian Professional Class (CEC), the FSW program does not require personal work experience in Canada, so this option is suitable for international student graduates who have already gained skilled work experience abroad.
The FSW program is a competency-based immigration program that uses a comprehensive ranking system (CRS) based on points to automatically place candidates against each other, of which only those candidates with high competitiveness profiles are eligible. Permanent residence application is invited. If an international student qualifies and competes well in the CRS grading system, FSW can be a great way for them to achieve permanent residency.
It is important to note that the FSW program requires applicants to prove that they have completed at least 12 months of full-time, continuous, skilled, or part-time work experience in any country. For international students who have never entered the workforce, this program will not be a good option.
Provincial candidate programs
Each of Canada's provinces and territories has its own immigration program, called the Provincial Nominee Program (PNP). Each PNP works differently because they are specifically designed to meet the needs of that province or territory. Many PNPs prefer applicants who have some kind of connection to the province, including education completed in that province and work experience gained in that province. Depending on the province in which the international student completed his / her program of study, he / she may be eligible to apply for a PNP in that province.
Quebec Immigration Options
The province of Quebec manages its own immigration system with different requirements and procedures from other countries. However, like the rest of Canada, Quebec immigration programs are designed to give international students the benefit of applying for permanent residency. The two main permanent residence programs in Quebec have streams designed for international students in Quebec:
Quebec Work Experience Program (PEQ):This program requires students who have completed their degree program or are in the final 6 months of their studies at a Quebec institution. To be eligible for the PEQ, an international student must have an above-average intermediate knowledge of French.
Quebec Skilled Workforce (QSW): This program may be a good option for international students in Quebec who have completed their studies or are in the process of completing their degree in Quebec. Unlike the PEQ program, the QSW program does not have to be fluent in French, but candidates must obtain the minimum required score on the program's score evaluation network.
Work permits after graduation in Canada
Permission to work after graduation is not a direct permanent residency program. However, it does allow most international students who have graduated from a designated educational institution (DLI) to stay in Canada after their studies and work with any employer in Canada.
This experience can help a person qualify to apply for permanent residency in Canada through the Experienced Canadian Class (CEC) or the Provincial Employer-Based Candidate Program (PNP).
Please note that not all programs offered at DLI are eligible for postgraduate work permit.