New Canadian study permit in 2019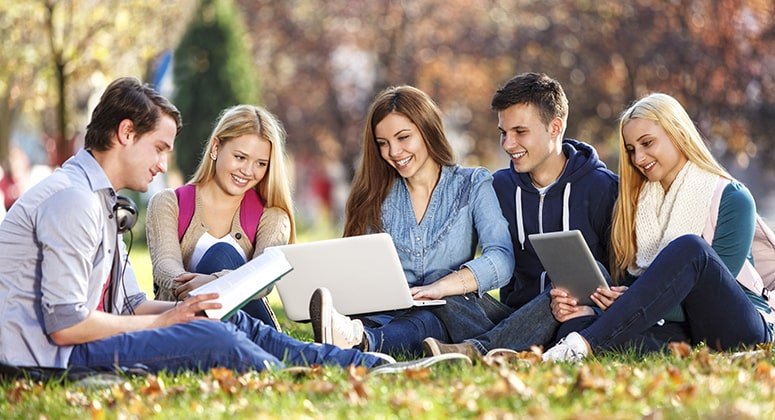 With approval New Canadian study permit in 2019 It surprised many interested students. The number of effective study permits has almost doubled since 2015. Most students came from India, China, South Korea, France, Vietnam, Brazil, Iran, Nigeria, the United States and Japan. be.
Canada had another big year in attracting international students as it approved 404,000 new study permits in 2019. The Sindh study permit is issued by the Immigration, Refugees and Citizenship Canada (IRCC) program, which allows foreign nationals to enter the institution. Learn to be assigned to study in Canada.
The number of study permits issued varies by the total number of international students. The IRCC has not yet released data based on Canada's international student population in 2019. However, the newly released Student Certificate confirmation data strongly indicates that their population is now over 600,000. Canada's international student population has tripled since 2009, when it numbered 200,000.
Top 10 countries of origin for international students
Before we get more acquainted with Canada's new study permit in 2019, it is better to have a knowledge of the top 10 countries of origin of international students.
India continues to be a leading international student body with wide differences of origin. In 2019, nearly 140,000 study permits were issued to Indians, accounting for 35% of all permits issued.
Becomes.
Chinese nationals received 85,000 student permits, accounting for 21% of all permits issued.
South Korea is third with 17,000 student permits, accounting for 4% of all permits.
The top 10 countries are France, Vietnam, Brazil, Iran, Nigeria, the United States and Japan.
Study permits have been issued in the country of origin and year of their impact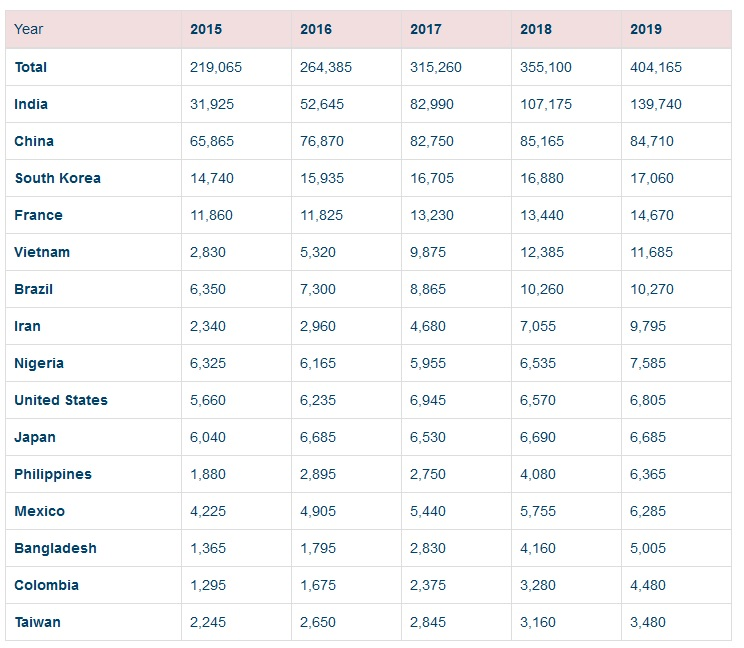 The growth of Canada's international student population is concentrated in several countries of origin. India is once again leading the way with a fourfold increase in the number of student permits issued since 2015. Rising, in which Vietnam is also involved. Only 3,000 Vietnamese received their study permits in 2015, which now stands at 12,000. Iran is another important source of growth. The number of study permits issued in this country has increased to 10,000, which has quadrupled since 2015 compared to 2019. Brazil, the Philippines, Bangladesh, Colombia, Turkey, Morocco and Algeria are among the countries of origin with a growth rate of at least 60% from 2015 to 2019.
Why do international students come to Canada?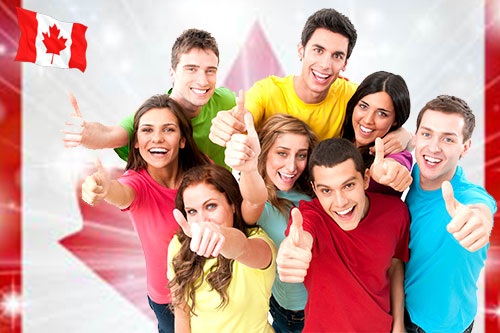 With the approval of Canada's new study permit in 2019, Canada still has the fourth largest population of international students in the world after the United States, Britain and Australia.
According to a study by the International Court of Justice in Canada, international students are attracted to Canada based on the quality of education provided by Canadian universities and colleges.
They are also attracted to Canada because of its reputation as an open and welcoming society.
The relatively low Canadian dollar is another factor. International students pay higher tuition than Canadian students However, the costs incurred in Canada are more affordable than those incurred by other international students in other top destinations.
Perhaps Canada's biggest advantage is its immigration-work-education package.
International students are eligible to work in Canada to meet their financial needs while studying. After graduation, many are eligible for a post-graduate work permit to gain more Canadian work experience for up to three years.
They can then apply for more than 80 economic-class immigration programs offered by the federal government as well as provinces and counties. Many of these programs prefer former international students in their selection indicators because federal government research shows that former international students are impacting the Canadian economy much sooner.
As the global international student population continues to grow and Canada's attractiveness as a study destination grows exponentially, it appears that attracting international students will continue to be a reliable achievement in the coming years. .